Our Story
---
The main essence of our company is FOOD. Our EMPHASIS is to provide TOP QUALITY food with EXCEPTIONAL SERVICE to our customers. Our team of recognized Chefs are able to create cuisines from THE EAST right to THE WEST with a Twist of their MAGIC TOUCHES that will leave you in awe.
We believe that the best ingredients for a good meal is to add a spoonful of PASSION, a dash of COMMITMENT & mix them well with lots of HARD WORK! Our GOAL is to create a moment that will be uniquely YOURS.
As a TEAM we dedicate ourselves to our work & ensure that YOU receive only the BEST from us!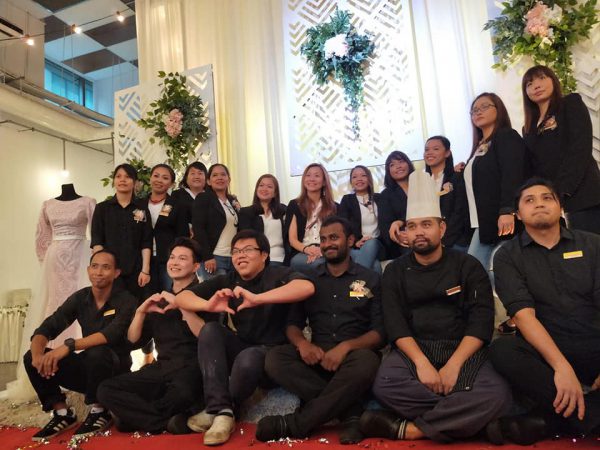 Our Concept
---
The Flame Cafe: Social Gatherings, Private Events & Wedding Venue
Located in an industrial building with an area size of 6000 sq feet and with a 6ft high ceiling, with a state of art centrepiece. Flame Café offers a lifestyle hub, also a diner, a place to work with high speed internet when you are on the move, a lounge to gather with friends and a place to meet from west to east due to its excellent location (located just beside Tai Seng Mrt Station, Exit A) and of course ample carpark lots at Basement 1 of the Building.
We are MUIS Halal Certified and our menu includes our famous 4-tier Pagoda Steamboat as well as Western ala carte items . Food produced here is freshly made and not pre-made – EVERYTHING Homemade. 
Beverage menu consists from our Freshly Brewed Coffee to Homemade Cordials, The Flame Cafe is here to provide your gatherings of family and friends a memorable one!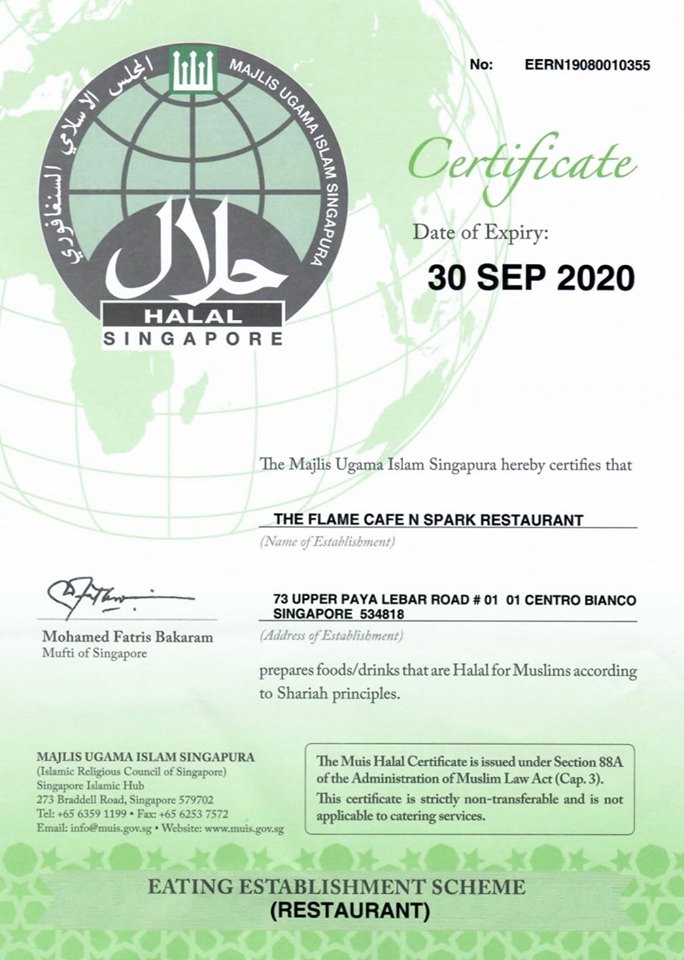 Pagoda Steamboat
---
Halal Pagoda Steamboat Singapore
Our 4-Tier Pagoda Steamboat is a MUST-TRY!
Pamper yourselves with our Homemade variety of Broths – Chicken, Tom Yum, Mala, Tomato & Herbal Tonic. We have a WIDE selection of Marinated Meat, FRESH Seafood & Vegetables – you wouldn't know where to start!
We have more – after grilling your favourite items, you then DIP them in our Chef's Secret Recipe Sauces! Choices of Dip will be Salted Egg & Creamy Cheese. You would be drooling for more!
Last but definitely NOT the least – our Steamer Tier. You can choose from our Chef's Handmade selection of dumplings or buns, you can even steam your selected seafood. In fact, you can steam anything you want! Our 4-Tier Steamboat gives you the chance to get Creative AND enjoy your meal at the same time!